I Hate Insurance Companies
You were in an accident. Your life has just been turned upside down. You're hurt, and you need help. Time to turn to that insurance company you've been paying so much money. They'll make this easy and treat you fairly right? As too many people know, this is all too often wrong. One of the most common phrases we hear from clients is "I Hate Insurance Companies".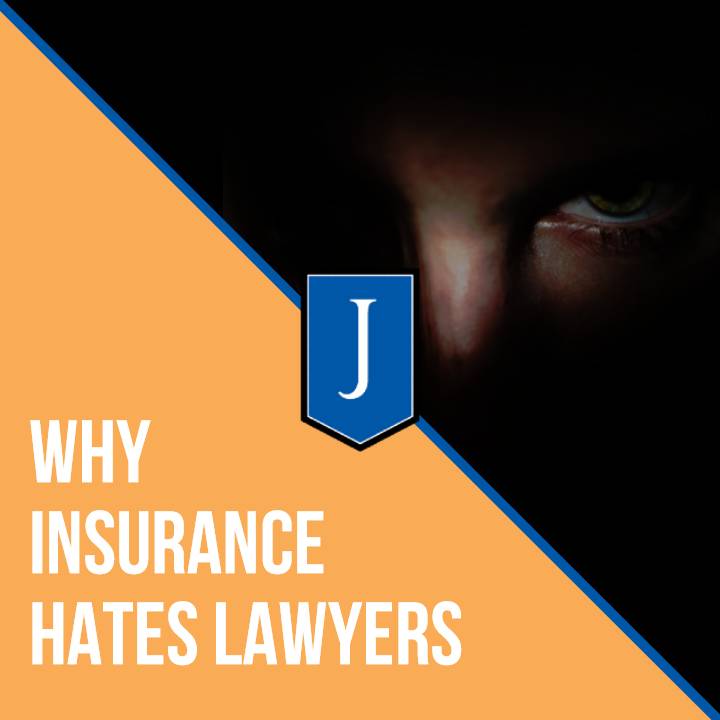 Who do insurance companies hate though? Well from our perspective they really seem to hate personal injury lawyers. Wonder why? It's because personal injury lawyers reduce their profits.
Insurance Companies Hate Good Lawyers
Why do insurance companies hate car crash lawyers? Simple, a good lawyer actually makes them pay up.
Today's post is really about why crash lawyers have to exist in the first place. Long story short; insurance companies underpay people so much that often hiring a lawyer, even after their fee, results in people getting more money back overall.
The largest insurance companies are massive publicly traded companies. They have a fiduciary duty to their shareholders to increase the company's share price. Increased profits increase share price. So they hate anything that cuts into their profits.
Car crash lawyers heavily cut into insurance profits, forcing insurance companies to actually pay out. Playing fairly costs them a lot of money and they would prefer you didn't hire a lawyer at all. People think "I Hate Insurance Companies" because they're not fairly treated. The process you have to go through is intentionally painful. It wears you out and gets you to accept less money.
A car crash lawyer levels the playing field. Insurance companies use a team of experienced professionals to minimize their payouts and maximize profits. We use our own team of experienced professionals to maximize your payout. Call us today if you would like to talk to an Oregon personal injury attorney. Our consultations are free, and we only earn a fee if we win for you.
Read on to see why insurance companies hate car crash lawyers, and why they have to exist at all.
The Insurance Research Council (IRC)
Insurance companies hate car accident lawyers so much, that they made a special interest group! The Insurance Research Council is a company founded and funded by multiple insurance companies. Let's look at some of their interesting statements from their news releases!
More and More People Hire Lawyers
First up is a statement about how more and more people are hiring attorneys for auto injury claims.
"The IRC's longstanding series of closed auto injury claim studies has shown an ever-increasing rate of attorney involvement, even among no-fault claims."

Public Attitudes on LitigationTrends and the Role of Attorneys in Auto Insurance Claims - The Insurance Research Council
We think people are hiring attorneys more and more simply because they have to do so. The IRC tries to frame this as unnecessary lawyers driving up insurance prices. We have two different ideas. First, insurance companies are getting better and better at keeping your money. So, more and more people need attorneys to fight them. Secondly, people are becoming more aware that they have good options. Between internet research and things like Google reviews, you can more easily find a good personal injury lawyer. That's bad news for insurance company stockholders.
Proper Payment Takes Proper Time
The second statement we are looking at is about how fast people receive their claim settlements.
"These studies consistently show that claimants who hired attorneys waited significantly longer to receive their claim settlements."

Public Attitudes on LitigationTrends and the Role of Attorneys in Auto Insurance Claims - The Insurance Research Council
Insurance companies love for you to end treatment and settle early. Proper recovery needs proper time. You still have control over your case once you hire an attorney. If at any time you want to settle you can choose to do so. However, we literally have a whole blog post about accepting settlement offers too quickly. Insurance companies are trying to sell you a bad deal with time pressure.
A good personal injury lawyer helps you avoid that time pressure. In fact, a good personal injury lawyer shields you from most abusive insurance behaviors. Let them lie to Justin Johnson or another of our attorneys about how "This is the max I can offer". Experienced attorneys have a good idea of what a fair offer should be.
A good attorney will have experienced insurance company tactics many times and know how to counter them.
In our experience, people with more complicated cases are more likely to hire an attorney. Complicated cases take more time. So of course these claimants' cases take longer. Also, notice the statement's phrasing. They use "significantly longer" instead of citing a specific time period.
Car Accident Lawyers Get You More Money
The third and final statement is about how much money people receive.
"Moreover, the average auto injury claim payment, adjusted for the medical expenses owed and any applicable legal fees, was lower among claimants who hired attorneys compared with claimants who did not."

Public Attitudes on LitigationTrends and the Role of Attorneys in Auto Insurance Claims - The Insurance Research Council
We are very interested to check their math on this. Unfortunately, the full report is behind a $1,000 paywall. So we will use the info we have.
IRC's statement above has a good chance of leaving a person thinking "Oh, people that hire lawyers get less money on average overall!". This is not true. If it was true the IRC would directly say that. Instead, notice that they adjusted payouts for medical expenses AND legal fees.
Denied Claims and Insurance Math
A large part of what car accident lawyers do is fight denied claims for medical expenses. Typically people think having their medical expenses paid is important. Insurance math sometimes seems to think otherwise. It is easy to just state an injury was unrelated to an accident. Proving an injury was related to the accident can be difficult. Fortunately, experienced car accident lawyers are good at it.
So, in regard to the IRC's average payment statement, we think a denied claim should be a zero. A lot of zeroes would really bring down the average for people who didn't hire an attorney. Remember that some insurance companies used to have official policies to deny every initial claim that came in. Many people simply accept their loss (and the insurance company's gain) and move on.
As the IRC said themselves, more and more people hire car accident attorneys every year. We can argue about why that is. However, it is obvious that more and more people think the right call is to hire a car accident lawyer. A consultation can help you find out if it is the right call for you.
One final but very important note, here at Johnson Law we care about our community and clients. Read our reviews to see how obvious that is. Our attorneys only take cases in which they believe they can get you more money in your pocket overall. This is even after attorney fees. If we don't think we can get you more money we will still point you in the right direction.
Call us today for a free personal injury consultation. Learn your options, don't miss a deadline, and let us help you recover.
We will review your case for free.
Pay us nothing unless we get you a better settlement.