When to Accept a Settlement Offer
In this post, we will go over some insurance company settlement offer tactics. Additionally, we will go over knowing when to accept a settlement offer. Once you accept an offer it is difficult to impossible to gain further compensation. Knowing when to accept a settlement offer is a valuable skill. Our experienced personal injury lawyers practice this skill constantly. Let us share some insights with you.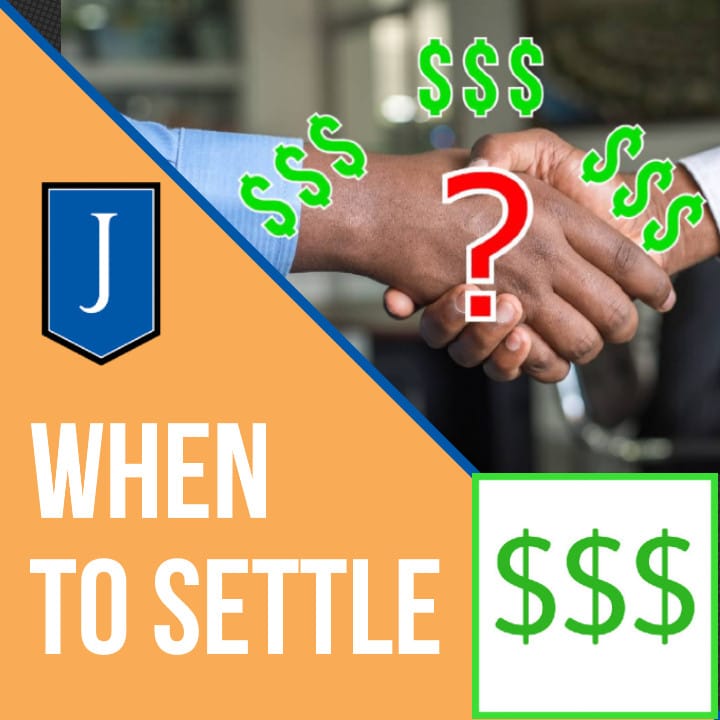 Insurance Company Tactics
Insurance companies want to minimize their payout. They choose their tactics carefully. You need to understand the strategy they are using towards you. Remember, their goal is to get you to accept a lower settlement.
Sometimes insurance companies are quick to offer a settlement. Often they are hoping you improperly value the long-term impact of your injuries. Or they don't want you to figure out there is more money on the table. Non-economic damages can be substantial.
Other times, insurance companies drag their feet. They hope you will lose interest and the financial stress causes you to cave in early. Just from a simple business standpoint, delaying payment can result in greater profits. The longer they get to hold onto money that is rightfully yours, the longer they can profit from it. CPI inflation is currently at 9.1% for June 2022. If an insurance company successfully delays payout for a year, it is kind of like a free loan.
Don't Accept A Settlement Offer Too Early
In general, accepting initial offers is a bad decision. The insurance company almost never offers a fair settlement offer right away. Initial offers may appear generous. However, time is often needed to determine how severe an injury really is. Before accepting anything, speak to an injury attorney for a free consultation to discuss your case.
Insurance companies use multiple tactics to get premature settlements. They might claim that this is the best offer the injured person can expect and give them a "take it or leave it" ultimatum. They will also use other common sales tactics. This includes tactics like creating a false sense of urgency and a fear of missing out.
Part of an insurance rep's job is to sell you on a low settlement. Appealing to emotion works. An adjuster may sound very friendly, lulling you into a false sense of security. Alternatively, an adjuster may be very aggressive, making you feel weak with no options. However, you do have options. Personal injury lawyers negotiate with insurance companies for you. Call in (971-205-3266) for a free consultation to learn more.
Best Course of Action
Settlement pressure is difficult for someone who is also dealing with a severe injury. Before you sign any documents, speak to an attorney about the offer. Once you retain an attorney, they speak to the insurance companies for you. Your attorney will let you know their opinion on when you should accept or reject a settlement offer, and why they think that is the best course of action.
A personal injury attorney can learn about your injuries and the facts of your case to determine if a settlement is fair or not. This way, you can be confident that the settlement covers your injury for the rest of your life. Since you can't get a second bite of the apple, you need to be sure that you are getting an amount to cover you for the rest of your life.
At Johnson Law, we help clients in Oregon and Washington get the help they need after an injury. During your free consultation, we can give you an understanding of how we can help you and your family. To discuss your accident, contact Johnson Law today for a free consultation.
We will review your case for free.
Pay us nothing unless we get you a better settlement.