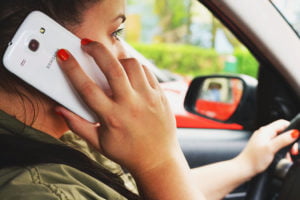 Legislation passed in May takes effect this month, imposing stiff fines for anyone caught even holding their cell phones or other electronic devices while operating a motor vehicle. The new distracted driving laws were modified to close some loopholes from earlier legislation.
House Bill 2597 makes it so Oregon drivers may face fines of up to $2000 for using any "mobile electronic device" while on the road.
A first offense could trigger fines of $1000, but may be erased if the driver agrees to take a state-approved distracted driving avoidance class at their own expense.
Legislators have worked to close a gap in Oregon's 2009 hands-free law that although it requires drivers to use a hands-free device to make phone calls and banned texting while driving, didn't explicitly block users from playing games or program a navigation device when driving.
The revised law prohibits any drivers from holding or touching a phone or electronic device at all while operating a vehicle.
While a vehicle doesn't need to be turned off to use a handheld device, it must be parked safely like on the side of the road or in a parking lot, not stopped at a traffic light. Additionally, a driver is not banned from using navigation, but can only use what's referred to as a "one touch" action, so a driver may access a preprogrammed route or end navigation after he or she has found the way as long as they can do it with one touch.
There are few exceptions, like if there is an emergency, a drive may use their device to call 911, but only if there is no one else in the vehicle able to do so.
The penalties have drastically increased with an escalation for multiple offenses or seriousness of incidents. For examples if the driver is involved in a crash or has had a previous offense, he or she will be facing a higher fine and possible jail time due to the circumstances.
If you have been injured in a distracted driving crash, it is important to speak with an experienced Portland personal injury attorney. Call today for your free, initial consultation.