New Side-Impact Crash Testing
Do you really know how safe your car is? Usually, drivers use safety ratings for a general idea about how safe a vehicle is. In particular, Americans use safety ratings from the IIHS and the NHTSA. One of the IIHS tests is receiving an update. In this blog post, we will look into the new side-impact crash testing.
The side crash tests show how a vehicle performs in a broadside collision. We have previously noted just how dangerous these broadside collisions can be. As such, it is very important that side-impact collision testing is being changed. If you use safety ratings, then you need to know what changes are coming to the side-impact crash test as performed by the IIHS.
Old Vs New IIHS Side-Impact Test
The new side-impact testing is being tested itself! Slowly it will be adopted by the Insurance Institution for Highway Safety (IIHS) for all vehicles. The IIHS is starting their testing off by first looking at small SUVs. The results have been interesting. The small SUVs have been struggling to get the highest safety ratings with the new test. You can read their article on it here.
The new test uses a heavier barrier. This barrier is also traveling at a higher speed. The new barrier weighs 4,200 pounds. This is closer to today's modern vehicles you see on the road. The barrier then hits the test vehicle at 37 mph. The old test used a 3,300-pound barrier traveling at 31 mph.
Perhaps the difference doesn't appear like much to you. However, that is over a 50% increase in linear momentum (mass x speed). The new test is much more difficult. Additionally, the striking surface of the newer heavier barrier was changed to better simulate crashing into another car or truck.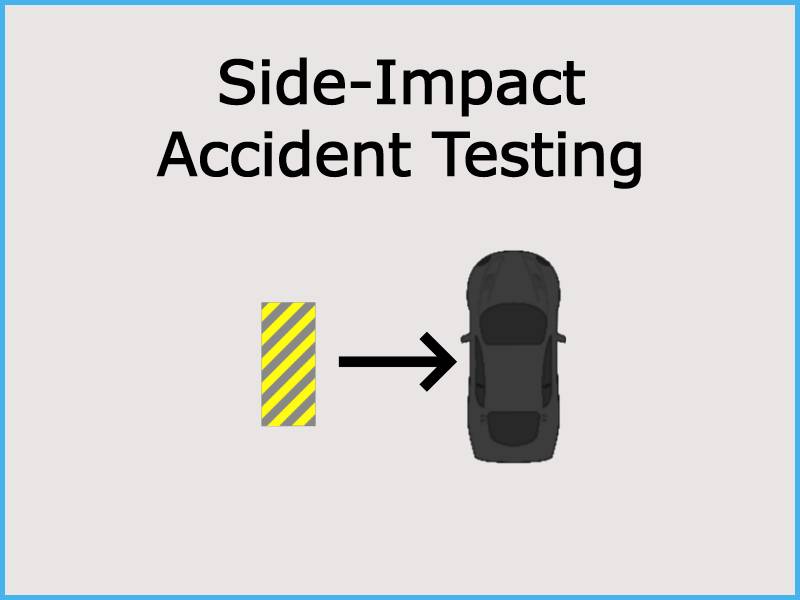 The side pole crash test simulates crashing side-ways into a fixed narrow object. When cars crash into each other the impact is often spread out over a relatively wide area. Also, both vehicles have some "give" to them. The crumple zones, bumper, and deformation of the frame dissipate some of the energy. Older side-impact testing didn't account for when vehicles crash into smaller fixed objects.
Learn more about IIHS vs NHTSA side-impact testing.
How Is The New Side-Impact Crash Testing Rated?
The crash test dummies give important information on the severity of the crash. There are two indicators the NHTSA uses to evaluate safety in side-impact tests.
First, they look at the Thoracic Trauma Index (TTI). The Thoracic is the middle section of your spine. This looks at how badly the accident will injure your back.
Second, they look at the Lateral Pelvic Acceleration. This is how fast your pelvis is accelerated to the side.
The safety rating depends on the chance of serious injury from these two tests. To achieve a five-star rating in side-impact crashes, there must be less than a 5% chance of serious injury. Both tests results must exceed the threshold for a particular rating.
| | |
| --- | --- |
| STAR RATING | TESTING RESULT |
| 5 Stars | 5% or lower chance of serious injury |
| 4 Stars | 6% to 10% chance of serious injury |
| 3 Stars | 11% to 20% chance of serious injury |
| 2 Stars | 21% to 25% chance of serious injury |
| 1 Stars | 26% or greater chance of serious injury |
Which is better IIHS vs NHTSA?
The IIHS testing is in general more difficult than the NHTSA testing. However, this doesn't really mean that the IIHS is necessarily better. The NHTSA is a government organization. Really it is setting the minimum for safety testing. The IIHS is a privately backed non-profit. The two organizations have different goals.
The IIHS was created by, and currently is backed by insurance companies. As such, it is going to focus on aspects of car safety that are important to insurance companies. Often those safety aspects line up with consumer interests. This is great for us.
Comparing test results from the two agencies can give you extra insights into a car's safety. They're better together. So the answer to "Which safety ratings are best?" is "Both used together".
We will review your case for free.
Pay us nothing unless we get you a better settlement.