Have You Been Hit In A Broadside Collision?
A broadside collision occurs when the passenger or driver side of a car is struck, usually by another vehicle. This is also known as a "T-Bone" collision and is just one of many types of auto accidents. Injuries in a broad-side collision are often serious. This is especially true when driving older vehicles. Older vehicles simply lack new safety features like side airbags and may even have bench-style seats!
However, even with newer safety features, broadside collisions are dangerous. Imagine crushing a shoebox. The broadside of the box is just inherently the weakest and easiest to crush. Cars are no different. If you have been hit in a broadside collision consider a free consultation with a personal injury attorney. Determining negligence is very important, and an experienced attorney will know what evidence to look for.
Don't miss a deadline. Don't leave money on the table. Call now to see how we can help.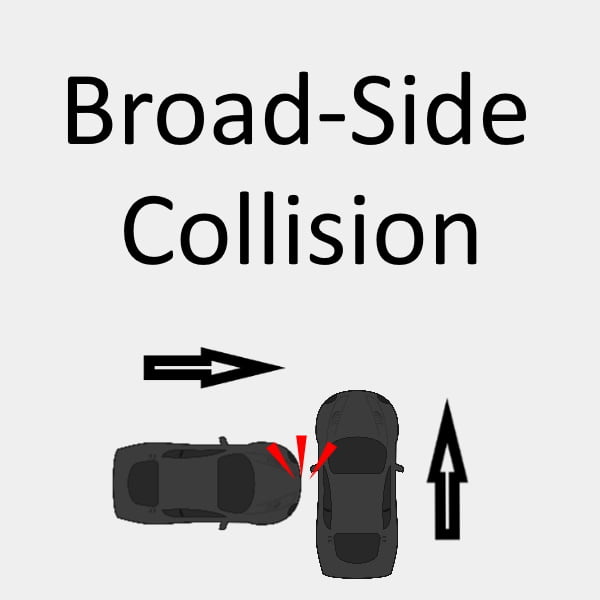 Causes of Broadside Collisions
There are many causes for broadside collisions. Usually they involve one driver being negligent. Their negligent behavior results in them enterting into the right of way of another motorist. The following are some of the accident causes that a personal injury lawyer will investigate.
Broadside Collision at Intersections
Intersections are the most common place for a broadside collision to occur. Left-hand turns with poor visibility can lead motorists to take unneccessary risks. People can run red lights. Or sometimes in very rare cases traffic control devices can be malfunctioning or more likely missing altogether. Investigating an accident scene soon after a collision can be very beneficial for determing negligence. Traffic camera footage or video evidence from nearby businesses can often be obtained.
Intoxicated Drivers
Other reasons as to why broadside accidents occur also include a driver that is operating a vehicle while under the influence of drugs or alcohol. Their impaired state can lead to a loss of control of the vehicle. As previously stated they may fail to yield to a stoplight and broadside a car in an intersection. Also common is loss of control on a highway without a divider. The driver who loses control ends up sliding sideways into the opposing lane of traffic. This can result in a severe roll-over accident.
Poor Visibility
Poor visibility may also be an issue when broadside collisions occur, as drivers may not be able to see other drivers in certain conditions. Sometimes these accidents occur when one driver neglects to turn on their headlights.
Poor visibility also often occurs with drivers operating a motorcycle and wearing non-reflective clothing. Other motorists cannot see them. Motorcyclists should be vigilant at all times and wear reflective clothing. All drivers should remain vigilant and enter any intersection with extreme care.
Distracted Driving
Other accidents that are common in broad-side collisions include distracted driving, in which a driver is not paying attention and drifts into another lane hitting the broadside of a vehicle. In worse situations the driver is distracted and doesn't notice a traffic control device. This results in them entering an intersection at speed.
Broadside Collision Accident Injuries
Injuries that can occur in a broadside accident typically vary on the severity of the collision. Some collisions may be minor and illicit no injuries, while other broadside collisions may lead to broken bones, head injuries, back injuries, and possibly death. Whiplash and concussions are the most common form of injury in broadside accidents, but injuries to the limbs and chest are also prevalent.
25% of crashes that involve broadside accidents have children in the vehicles. Of those, more than 33% of the crashes lead to child fatalities, usually due to head trauma.
Children are especially susceptible to injury/ death in broadside crashes. 25% of crashes that involve broadside accidents have children in the vehicles. Of those, more than 33% of the crashes lead to child fatalities, usually due to head trauma. While unfortunate, these accidents can be partially prevented with specific attention at intersections and paying attention to individuals who are not adhering to rules of the road. If you or a loved one were injured in a broadside collision through no fault of your own, contact Johnson Law. Our experienced award-winning attorneys will fight to get you the compensation you are rightfully owed.