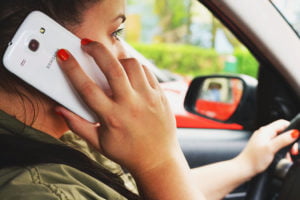 A new distracted driving legislation has been passed and set to take effect October 1 for all drivers on the road in Oregon. As the distracted driving crashes, injuries and deaths continue to rise nationwide, legislators have aimed to cut down the root of many of those accidents.
So what does this new law do? The short answer is the new law makes it illegal to drive while holding or using any electronic device.
The long answer, as with many things, is that it is not that simple. There are many exceptions, but less than before.
A driver 18 years old or older may operate any hands-free or built-in device in the vehicle. They may use a single touch or swipe to activate or deactivate the device or function. It is not legal to use the device while stopped at any stoplight or traffic signal. The driver must pull over to the side of the road or a place like a parking lot to legally operate their electronic device.
The biggest exception to those parameters is for use when there an emergency. If emergency services and help need to be called, a driver can operate a phone if no one else in the vehicle is able to call for help.
Ambulance and emergency vehicle operators as well as police, fire or EMS providers are exempt when they are performing their job and as it relates to their emergency response.
HAM radio operators 18 years and older are also exempt. Truck or bus drivers have to follow federal rules for CDL holders.
If you or a loved one has been injured in a distracted driving accident, it is important to call compassionate and experienced distracted driving attorneys who can fight on your behalf to get you the compensation you deserve. Call today for your free consultation.