Portland Winter Storm Accident
Every year Portland will get about one large winter storm event to deal with. A Portland winter storm accident can easily change your life. This year the winter storm is especially dangerous. Ice-coated roads and severe wind chill are among the most dangerous driving conditions. Our firm wants you to stay safe out there.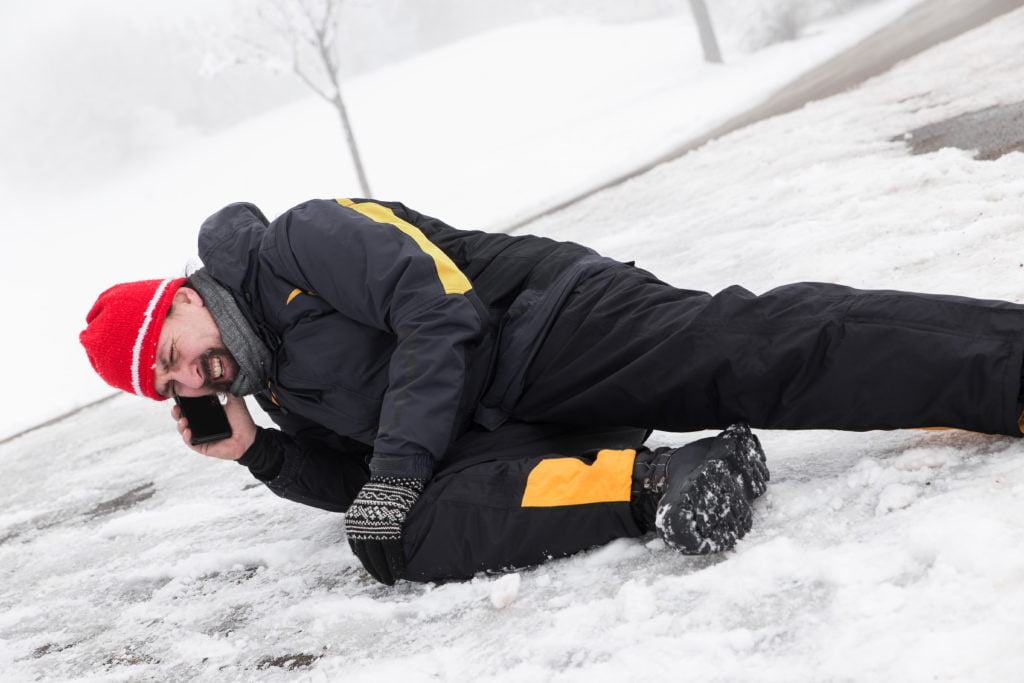 In particular, you should watch out for slip and fall conditions. Emergency room visits for broken bones skyrocket after a freezing event. Not only does ice make a slip more likely, but the frozen ground also makes any fall more damaging.
Additionally, you need to take extra care when driving during these dangerous conditions. Freezing rain is obviously dangerous, but with these cold temperatures black ice could be lurking anywhere. Be wary of overpass road crossings. They freeze before the rest of the roads do as they are cooled from all sides.
Oregon Winter Storm Driving Tips
Driving during winter storms is hazardous. Here are some tips to help you stay safe out there.
Winter Storm Driving
Only travel if necessary.
Plan to drive slower than normal.
Accelerate and decelerate slowly.
Increase your following distance.
Test your braking distance.
Don't stop if you can avoid it.
Don't power up hills.
Don't stop going up a hill.
Only travel if necessary.
If it can wait until after the storm, wait. Avoid the risk altogether. Driving in a Portland winter storm is something you only want to do if you have to.
Plan to drive slower than normal.
The best way to drive slower is to not be rushed. Plan for trips to take longer than your normal estimate. Other drivers are likely driving slower as well.
Accelerate and decelerate slowly.
Your tires have limited traction on snow and ice. If you accelerate or brake too hard your wheels lose grip and spin. Once wheels have lost grip you are in real danger as you have little control. Drawing out your acceleration and deceleration also gives you more time to react.
Increase your following distance.
Rear-ending someone because you couldn't brake in time on ice or snow is extremely common. Also in bad conditions, other drivers are more likely to make mistakes. As such, there is a higher chance you will need to actively avoid an accident. Give yourself more time to react.
Increasing your following distance also decreases the chance you have to stop in general. This is important in snowy conditions.
Test your braking distance.
Knowing how well your brakes work in different conditions is extremely important. This is how you determine a safe speed and follow distance.
Be careful where and when you test braking distances. Especially be wary of testing braking distance in a parking lot that may have curbs hidden under the snow.
Don't stop if you can legally avoid it.
Losing momentum at the wrong time can easily get your vehicle stuck. Increasing your following distance can help you avoid stopping more than absolutely necessary.

Sometimes you simply can't avoid an accident. If you were in a Portland winter storm driving accident we may be able to help. Call our office (921-205-3266) to have a free consultation with one of our award-winning personal injury attorneys.
Winter Slip & Fall
Portland winter storm accidents often take the form of a slip & fall incident.
Ice and snow make walking on sidewalks, driveways, and streets hazardous. Some mishaps are unavoidable, but some result from negligence. Walking should not be an occasion for major life disruption. However, for many, it unfortunately is a major life event. Here at Johnson Law, we may be able to help.
If you had a slip-and-fall accident on another person's property, they may have neglected their duty of care. The circumstances of the fall will be important. During a free consultation, you can get an attorney's opinion on if you may be owed financial compensation. Homeowner's insurance or business liability insurance may come into play.
Common Slip & Fall Injuries
Head, neck, and spinal injuries are common in slip and fall injuries. Traumatic brain injury is one of the worst but all too common results of a slip & fall. People often break their wrists trying to catch themselves. Tail bones and hips are also often shattered. These are series injuries.
If you believe you have been hurt due to someone else's negligence, it's imperative that you call an experienced personal injury attorney right away. Common slip & fall injuries can lead to life-long consequences.
Unfortunately, it can be common for a slip & fall injury to have life-long repercussions. This is made worse because many people downplay their slip-and-fall injuries. They may feel embarrassed. Sometimes people even think it is their own fault for falling even though it was someone else's negligence that is really at fault. Men are especially prone to this behavior.
Slip & Fall Stats
The CDC reports that 1 in 5 falls results in serious injury. Older adults stand an exceptionally high risk of injury in a fall. This is made even worse by the fact that falling doubles the risk of falling again. The fear of falling can curtail everyday activities, and that's a tragedy. Walking should be a normal part of living, not a cause for anxiety.
Help With Medical Bills
If you have insurance and are in a car accident in Oregon your medical bills should initially get taken care of by the personal injury protection portion of your policy. However, in slip and falls, there likely isn't a personal injury protection policy to immediately kick in and help with your medical bills. This too often leaves people in seemingly impossible situations.
We'd all like to enjoy the holiday season worry-free, and celebrate the year gone by with our family and friends against the backdrop of a majestic snowfall. We sort of laugh at the Hallmark movies, but in the end, that's a picture of what we really want: peace instead of pain.
If you've been seriously injured from a slip and fall injury, the medical bills are going to get big. Perhaps you can't even work. This troubling situation can't stand. Get help from Johnson Law. We can handle slip-and-fall cases like yours. We would love to be the difference between an insurance company keeping your money, and instead walking away with hope.
Portland Winter Storm Driving Accidents
No one plans for serious injury. What you can do is to plan for a better recovery. Get an outstanding personal injury attorney who has got your back. Recover what you have lost with a trusted partner, ready to help you put these injuries behind you.
Don't wait for the pain to get worse. Your peace of mind will only suffer if you do. The consultation is free. When so much has been taken from you, it is time to take something back for yourself. Let us help.
We will review your case for free.
Pay us nothing unless we get you a better settlement.