Portland Traffic Fatalities On The Rise
Portland traffic fatalities look to be on the rise this year. Just this past week another unfortunate death took place. 2020 and 2021 have been very different from what could be considered normal. Subsequently, the traffic-related fatalities in Portland show that. Here at Johnson Law, we keep tabs on trends in traffic-related injuries. It is part of our process to stay at the forefront of Personal Injury law. Let's look at some of the facts to see what is going on.
2020 Traffic-Related Fatalities Portland
First off, last year (2020) there were 54 traffic-related fatalities in Portland. 2020's traffic fatality count was already a three-decade high. This is even more interesting as we saw overall traffic take a heavy drop in 2020. This presents questions like, "Why are fatalities up if traffic was down?" and "Is 2020 an anomaly?". Let's explore some potential answers.
2021 Traffic-Related Fatalities Portland
We start off by noting that a hit-and-run fatality on Wednesday was the 52nd traffic-related fatality in 2021. This was the most recent of the Portland traffic-related fatalities this year as of this post's publication date. At this time, there are still over two months left in this calendar year. That is an average of over 5 traffic-related fatalities per month. If the average holds we could be looking at over 70 traffic-related deaths before the end of the year. This is a significant increase in traffic-related fatalities. This is especially true once you realize Portland is actually spending significant resources on reducing traffic-related fatalities as part of the Vision Zero Project.
Long-Term Trends
Third, it should be noted that obviously, 2020 was an outlier of a year. The pandemic affected just about everything. However, 2021 is also an outlier of a year. The pandemic has continued to change our everyday lives. The emergence of vaccines and the delta variant have made 2021 a rollercoaster of activity. We will need time to see if the increase in traffic-related fatalities is temporary or part of a longer-term trend.
It is interesting that traffic-related deaths in Seattle, another northwest city with a large population, were actually lower in 2020 than in 2019. There were 27 traffic-related deaths in 2019 and 23 traffic-related deaths in 2020. The trend is similar for Washington's King county overall.
The pandemic definitely affected traffic patterns. Fewer people were on the road, but with less traffic, the remaining drivers were traveling at higher speeds than normal. Here is a Vision Zero Project infographic from the city of Seattle showing how speed affects injury severity.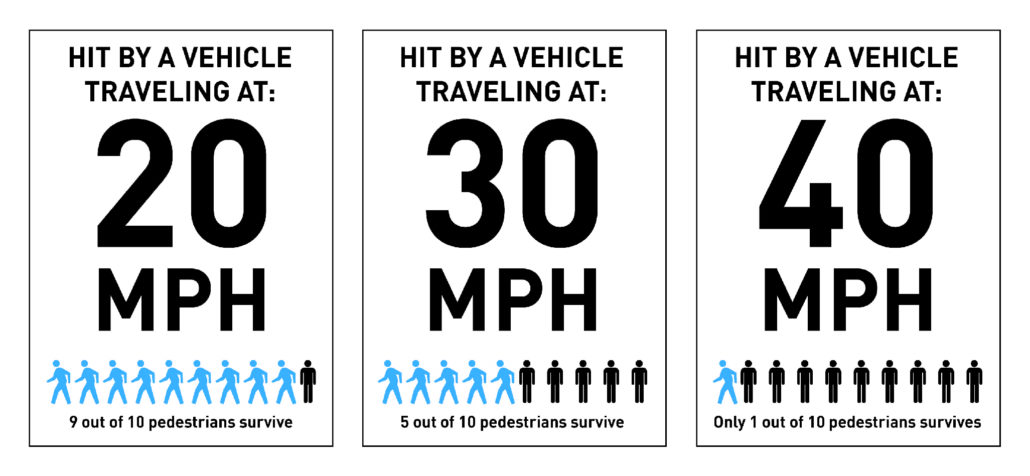 So in some places, there were fewer overall traffic accidents, but the traffic accidents that did take place were more severe. We are keeping our eyes on the trends and will write another post in the future.
Personal Injury Lawyers
Have you or a loved one been injured through the negligence of another person? The experienced and capable personal injury lawyers of Johnson Law may be able to help. We fight insurance companies in order to secure fair compensation for people like you.
We will review your case for free.
Pay us nothing unless we get you a better settlement
Call now (971-205-3266) for a free personal injury consultation.