How Much is My Injury Worth?
If I've been in an accident, how do I know how much my injury is worth? How does Oregon law determine how I should be compensated? How much does the insurance company think my claim is worth? These are important and frequently asked questions. Call for a free consultation or read on to learn more about determining how much a personal injury is worth.
Many clients, upon first meeting their personal injury attorney, want to know exactly what their case is worth. They hope that the lawyer can give them a dollar number quickly and easily. This, unfortunately, isn't possible. However, an attorney can advise their client based on their experience handling similar cases.
How do I find out what my case is worth?
Each case has its own unique set of details. A good lawyer fights to make a person as whole as possible after their particular accident. In order to do this an attorney will carefully go over your damages. Many factors play into how much a case is ultimately worth.
What is the formula for pain and suffering?
You should note that personal injury cases involve economic and non-economic damages. Also, you must consider your time and personal stress as a cost. This is why we forgo any online "case calculators" and encourage consultations. An attorney can help you understand what will affect your case.
Additionally, your case can be worth more or less as the case moves forward and more information comes to light. Ultimately a personal injury case is worth as much as a court or insurance company thinks it's worth.
Personal Injury Case Example
First, our attorneys will review your case and determine if we should take it. We only take cases where we can both benefit. Our personal injury attorneys work on contingency. No win? No Fee.
Should we take on your case, your attorney and their team will start gathering additional information. There is quite a bit to be collected from all available reports and papers concerning your injury. Relevant medical records will be vital. This can change an attorney's estimate for your injury.
We will track down and speak with any witnesses to your accident as well. After gathering the information we need, we determine what we feel is a fair settlement and attempt to negotiate a deal with the insurance company. If the other party or parties are unwilling to pay a reasonable amount, we will file a lawsuit. Your attorney may have an updated estimate of your case's worth at this time.
Upon filing a lawsuit, we will start formal discovery, taking depositions and exchanging paperwork with the insurance company. After discovery is finished, if there is still no agreement for a settlement, we will head to a trial. If the case continues fully through a trial, the court will ultimately decide what the case is worth.
Every Case Is Unique
Every case is different and should be treated as such. In each case, there are many factors to consider. We need to consider the seriousness of the injuries as well as our ability to show the defendant was at fault for those injuries.
The clearer the liability and the more serious the injuries, the higher the monetary amount we may be able to recover. In some cases, we may be limited by insurance policy limits, but that will depend on each individual case. In other cases, insurance companies can end up paying your attorney fees, functionally increasing the case value. These are things you can ask about in a consultation.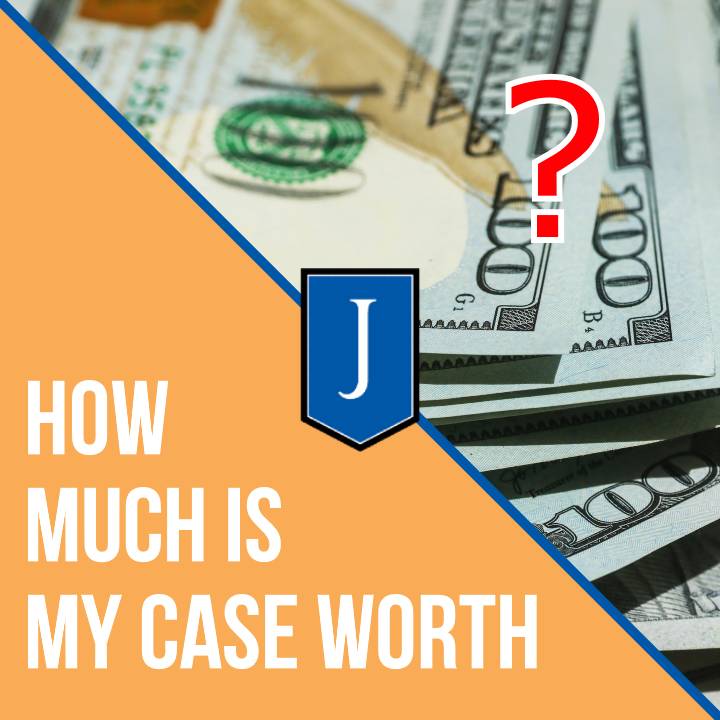 Can An Attorney Get Me More Money?
Potentially, yes. If an attorney working on contingency can't get you a better offer than you already have, they don't earn a fee. A personal injury attorney is motivated to get you more money. At Johnson Law, we only want win-win situations for us and our clients. That is why we recommend exploring your options.
It might be frustrating that an attorney can't give you a guarantee of success. People may be tempted to try to negotiate on their own, thinking that they can get the same settlement offers an attorney can without paying any fees. While this is certainly the client's prerogative, studies would indicate that an attorney is generally able to get more for their clients, even when accounting for fees. Specifically, a 1999 Insurance Research Council study found that people who had an attorney received three-and-a-half times more than a person who represents themselves after fees.
This is not a guarantee that a lawyer will get a client more money than they might get on their own, but it shows that a lawyer generally better understands how to value an injury than a client. This is because personal injury attorneys deal with injuries every day and know what to look for, whereas clients unfamiliar with them don't.
How Else Does A Personal Injury Lawyer Help?
There are a lot of things a personal injury law firm will do for you that you may not know. Consider these important ways that a personal injury lawyer can help your life.
First off, people often don't know of important deadlines. If you don't file a claim in time you may completely lose your right to any compensation. Sound stressful? A good attorney will work to ensure you meet every important deadline.
Second, money is often simply left on the table. People often miss out on non-economic damages they didn't even know they could claim. If you don't want to take the time to thoroughly research potential tort claims, a free consultation can help. An attorney should know of all potential claims you can make.
Third, as the saying goes "Time is Money". Once you get a lawyer, insurance companies have to talk to your lawyer. An attorney shields you from pushy claims adjusters working to stress you out and settle low/early. An attorney also saves you time in many other ways.
Have you ever tried to obtain and organize a life's worth of medical records? Perhaps you would prefer an experienced professional do that instead.
Time-saving is one of the most underrated benefits of hiring an attorney. Insurance companies will pressure and stress you. Personal Injury lawyers pressure and stress insurance companies!
Ask Us Directly - How Much is My Case Worth?
At Johnson Law, we have helped many clients get the money they deserve after a serious accident. While we can't put a number on your particular claim, we can explain exactly how we will fight for you and what we will do to achieve the best possible outcome for your particular case. For a free consultation to discuss your injury, contact Johnson Law today.
We will review your case for free.
Pay us nothing unless we get you a better settlement.