Rollover Accidents
The cause of rollover accidents occur in many different situations, many of which can come from defective car parts, defective tires, or negligence from the driver of another vehicle. An experienced and capable rollover accident lawyer may be able to help you.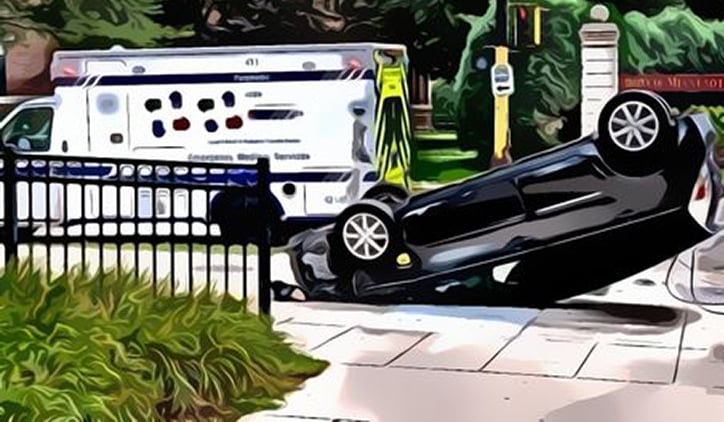 Rollover Accident Attorney
Nearly 3 out of 4 of all fatal rollover crashes occurred when the speed limit was 55 mph or over (especially in rural areas)
National highway traffic safety administration says only 2% of car accidents are rollovers, but more than 35% of fatalities occur from a rollover accidents. Many of the worst injuries that occur from rollover accidents often occur due to an individual not wearing their seatbelt. When not wearing a seatbelt, an individual can be tossed form a car at high speeds. If a seatbelt is being worn and fails, the manufacturer of the seatbelt should be held at fault for producing a faulty part.
Another instance in which injuries occur is collapsing roofs. Many new vehicles now have airbags that will act as a curtain from a collapsed roof, but this does not always happen. Collapsed roofs often cause many injuries including head and spinal cord injuries.

Rollover accidents often include vehicles that have a higher center of gravity, such as lightweight trucks and sport-utility vehicles. Rollover accidents typically tend to be a singular vehicle losing control on icy roads, uneven paving, soft shoulders taken at high speeds, or even hitting an obstacle while driving
If you have been injured in a rollover crash, the information above is simply just the starting point for your search for a personal injury lawyer. A serious injury is one of the life-changing events that cause mayhem on the health, finance, and family life of an individual. After an accident, an individual could be faced with significant medical expenses and loss of income. Personal injury attorneys are not that difficult to find; the best personal injury lawyer may be more challenging to identify. So, do your homework and find the best personal injury lawyer who will meet your demands.
Don't settle for less than you deserve. Book your free consultation today with a rollover accident lawyer at Johnson Law.